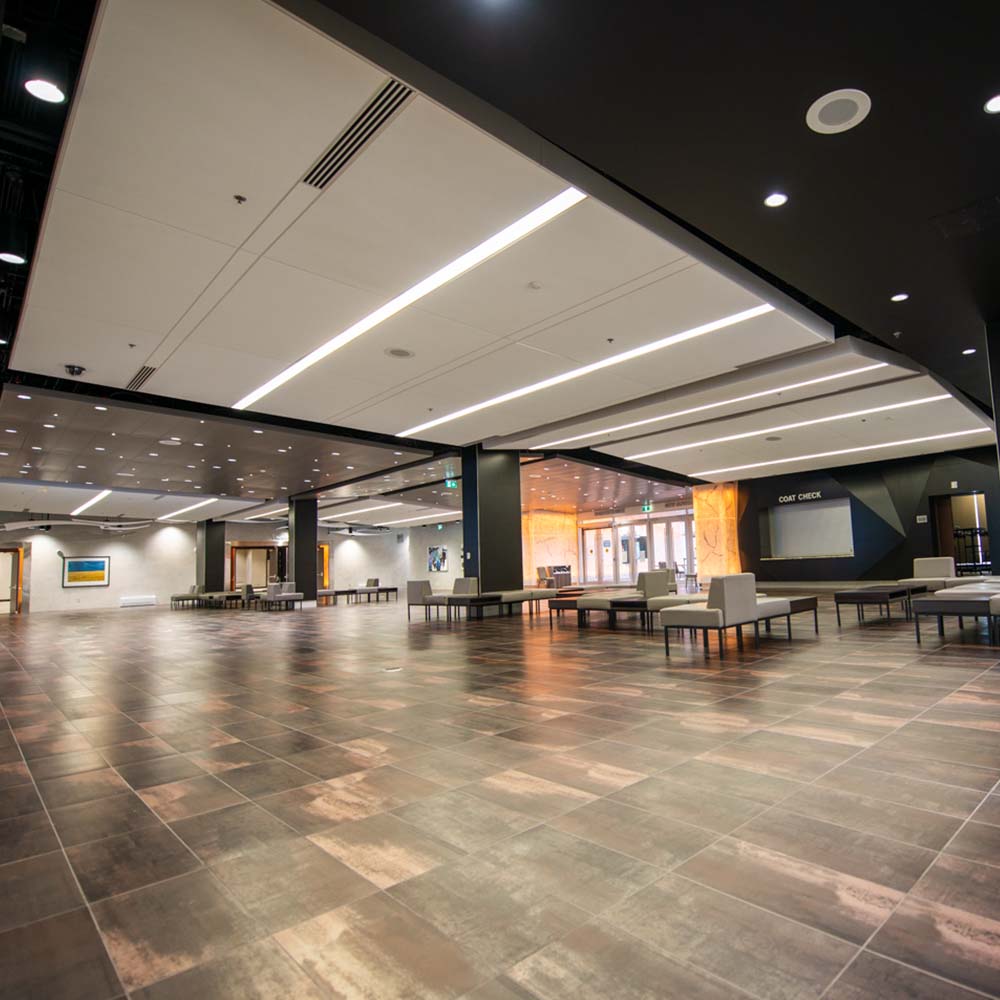 Plenty of room, endless possibilities.
Facilities include large divisible ballrooms, crush lobby, modern business centre and state-of-the-art meeting rooms.
Our 47,000 square feet of divisible meeting room space is designed with modern sophistication and flexibility to accommodate both big and small events.
Ballrooms
From elegant galas and sophisticated receptions to banquet-style dinners and keynote speeches, our ballrooms are well appointed, and well equipped to offer flexibility in design.
Both the Bowring and Bannerman ballrooms offer open ceilings, ambient sparkle lighting, colourful LED lit entryways, and a sophisticated, modern décor.
Each ballroom is designed with Coreflex dividing walls and multiple rigging points to accommodate any configuration, including large openings to crush lobby.
Bowring Ballroom
Size: 19,550 square feet.
Capacity: 2,175 for reception, 1,548 for banquet (dining).
Divisions: Up to 5 separate spaces.
Bannerman Ballroom
Size: 7,600 square feet.
Capacity: 855 for reception, 552 for banquet (dining).
Divisions: Up to 4 separate spaces.
Meeting Rooms
SJCC offers six meeting rooms that can be easily configured into 10 separate spaces with Coreflex dividing walls, creating space for multiple speakers, break-out rooms, and lunches.
Each meeting room is equipped with presentation hardware, ample wired data, and electrical connections, as well as hallway seating.
Lobby
Size: 13,606 square feet
Capacity: 1,512 people
Located on the main floor of the Convention Centre, the large crush lobby features contemporary local artwork, a digital media wall and digital signage, as well as flexible wall space for event signage, and plenty of natural light.
The lobby also features ceramic tile flooring, comfortable seating designed for networking, and access to an outdoor deck.